About Rolf Taraldset
Master carver Rolf Taraldset was born and grew up in Hornindal in the Nordfjord area of western Norway where he also has his workshop.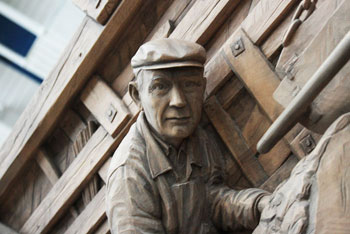 At the age of five he tried his first cuts in the workshop of his father, Bjarne Taraldset, a professional woodcarver who trained with Daniel Hagerup, a maestro in woodcarving who studied in Oberammergau.
Rolf worked in his father's workshop for three years before he attended Hjerleid Woodcarving School at Dovre, where he took his examination in 1976.
Rolf's projects include both furniture and carving in many classic styles and he does every step of the work, from preliminary sketches and the creation of the pattern to the final product.
The production ranges from very small models for casting to larger decorations in ornamental or figurative form. He also enjoys the challenge of creating portraits and other pictures in sculptural and deep relief, as well as baroque and rococo furniture.
Rolf also teaches woodcarving. He taught his first class in 1976, when he was studying at Dovre, and since then he has led numerous workshops in many places every year. Many of his students return for his classes year after year.